Sorry, this deal has ended.
Update 4/19/21: This offer has been extended once again, with bonus cards now having an expiry date of November 15, 2021. This is a new promotion period, so you should be able to buy another $500 worth of Best Western gift cards even if you did the deal in the past.
Update 1/11/21: I'm not sure when this offer was originally due to end, but I'm guessing it was due to expire on December 31, 2020 seeing as the bonus cards were due to expire on March 31, 2021.
Best Western has extended the expiration date of the bonus cards to June 30, 2021, so this offer will hopefully still be around until the end of March. The new expiry date of June 30 is presumably only for new purchases; I doubt that they've extended the expiry date of bonus cards which were originally due to expire on March 31.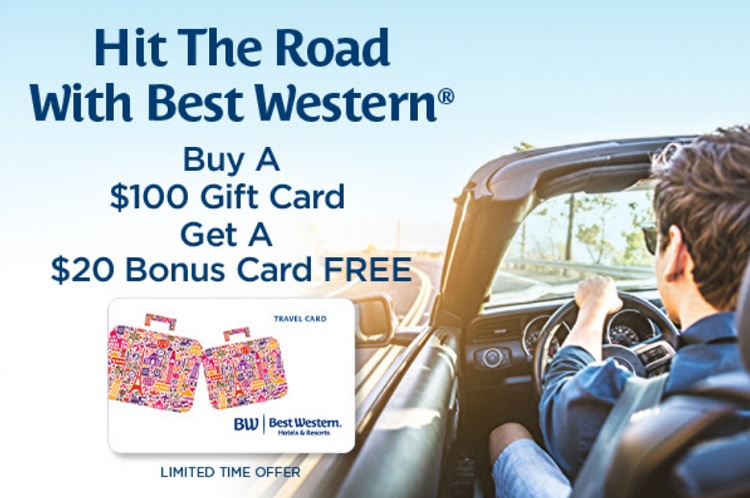 The Deal
Buy $100 Best Western gift cards (Travel Cards) & get $20 bonus cards free.
Key Terms
Bonus cards expire March 31, 2021.
There is a limit of $500 in Travel Cards that can be purchased per customer during this Promotion.
Valid on standard and e‐gift card purchases.
This is an online promotion only.
Other restrictions may apply.
Offer not valid with any other promotion or discount.
Bonus Travel Card will be sent via email separately from the purchased Travel Card.
Offer subject to change and/or cancellation without notice.
Travel Cards are subject to terms and conditions at travelcard.bestwestern.com.
Tips & Ideas
If you're sure that you'll be staying with Best Western by March 31, 2021 in order to redeem the bonus cards, this could be worth taking advantage of as it's effectively a 16.67% discount.
It looks like payment will be processed by Givex rather than Best Western, so it presumably won't trigger any kind of bonus on credit cards that earn more for travel purchases.