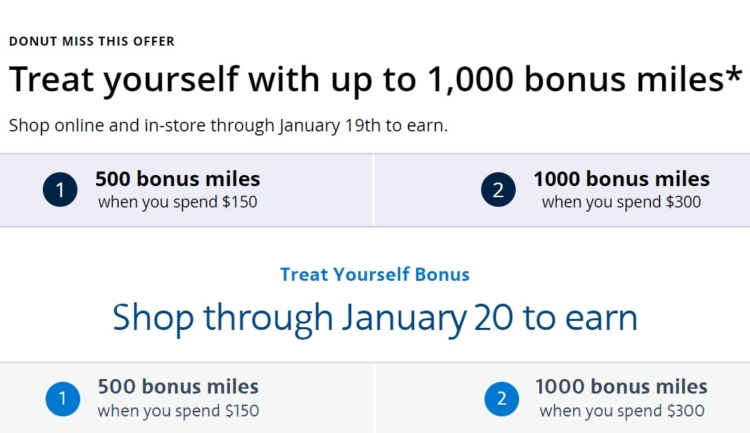 The Deal
The American Airlines & United shopping portals are both offering the following deals:

Spend $150 & earn 500 bonus miles
Spend $300 & earn 1,000 bonus miles

Direct link to offer – American Airlines.
Direct link to offer – United.
Key Terms
Terms below are for United; American Airlines terms are the same except that the American portal expires January 20
During the "Treat Yourself Bonus" offer, which runs from 1/10/2022 through 1/19/2022 at 11:59:59 pm ET (the "Bonus Period"), Member will earn a one-time bonus of up to 1,000 MileagePlus bonus award miles on qualifying purchases made through the MileagePlus Shopping mall or from purchases made through MileagePlus Shopping in-store offers.
This one-time bonus award will be based on Member's cumulative qualifying purchases made during the Bonus Period using one of the following tiers: Tier 1 bonus: 500 miles for qualifying purchases of at least $150; or Tier 2 bonus: 1,000 miles for qualifying purchases of $300 or more.
"Qualifying purchases" do not include returns, cancellations, shipping and handling, taxes, gift card or other cash equivalent purchases, and certain products that are not eligible for bonus miles.
Please see the MileagePlus Shopping mall site for details on product eligibility and other restrictions.
Please allow up to 10 weeks after the Bonus Period for bonus award miles to post to your MileagePlus Shopping account.
The Tier 2 bonus provides the maximum number of miles that will be awarded.
Tips & Ideas
Both of these portal offers are giving a bonus 3.33x miles per dollar when spending exactly $150 or $300. That could be useful, especially for retailers that don't normally earn at high rates on shopping portals.
Note that with the American Airlines portal the regular miles you earn on your purchase will also earn Loyalty Points, but the bonus miles from this portal promotion won't earn Loyalty Points.
One of the nice things about the United offer is that they have an in-store card-linked program, so that makes it easier to hit spending thresholds.
From a gift card perspective, buying gift cards from GiftCards.com or Raise should trigger these portal bonuses despite the terms stating that gift card purchases are excluded.