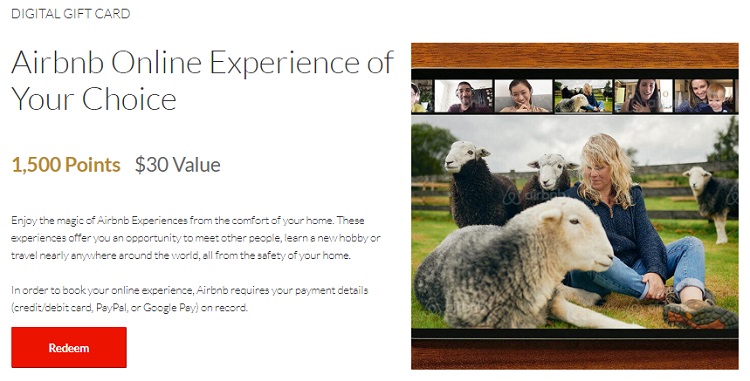 The Deal
Redeem 1,500 AARP Rewards points for Airbnb Online Experiences ($30 value).
Key Terms
This one-time use and non-refundable coupon is valued at $30 and expires on 12/31/2020 at 11:59 PM UTC.
It is valid toward an Experience booking only.
To use a coupon, you must have an Airbnb account.
Limit of 3 Reward Point redemptions each month (excludes Instant Win Games, Sweepstakes and Local Deals).
Fulfilled as a digital gift code.
Tips & Ideas
OK, so this isn't a gift card deal itself, but if you take advantage of any AARP Rewards gift card deals there's a good chance you're sitting on some AARP Rewards points.
You can redeem those points for gift cards, but it usually costs 10,000-15,000 points for a $5 gift card which is very poor value. I usually recommend redeeming points for Local Deals which are powered by Entertainment.com (makers of Entertainment Books). That way you can redeem ~500 points for things like 'Buy one menu item, get one free' at a local restaurant, or 'Buy one admission ticket, get one free' for a museum, etc.
If you have any interest in Airbnb Online Experiences, this could be a great alternative redemption option for your points. 1,500 points for $30 of value is a decent redemption option, especially seeing as AARP Rewards will be starting to expire points a year after they're earned from January 2021.
The digital code you receive is for $30 of value rather than for a free experience. That can matter because Airbnb Online Experiences can range in price from single digits to $50 or more.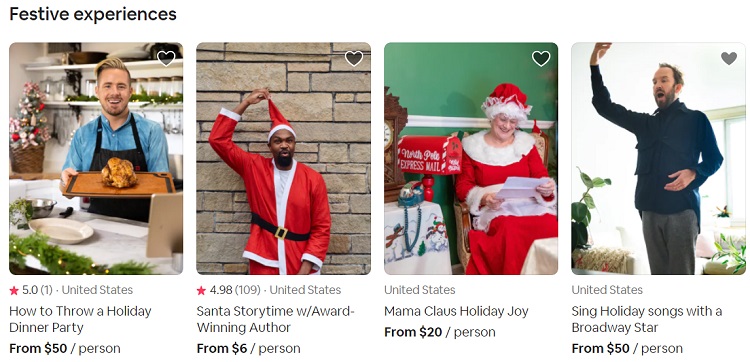 I redeemed 1,500 points to test this out. I picked an experience costing $50 and applied the code; this left me with $20 to pay.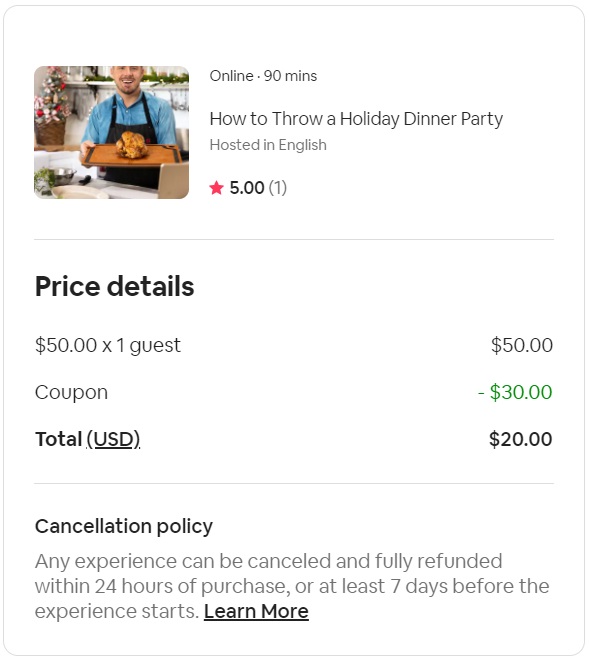 I didn't go through with that booking, so my code still had the full $30 of value. I then went ahead and booked an experience costing $11.91 which Airbnb rounded up to $12 when redeeming the code.
After doing this, I tried using the code again to see if the remaining $18 could be used towards another Online Experience, but it gave a message saying that it couldn't be applied. It therefore looks like the digital code you receive can only be used one time, so any remaining value is lost if the experience costs less than $30.
In case you're wondering, the code they send you consists of 12 letters, rather than the 15 digit card number and 13 digit PIN like regular Airbnb gift cards. As a result, this sadly isn't a way to pick up $30 Airbnb gift cards for 1,500 points as that would be an amazing deal.