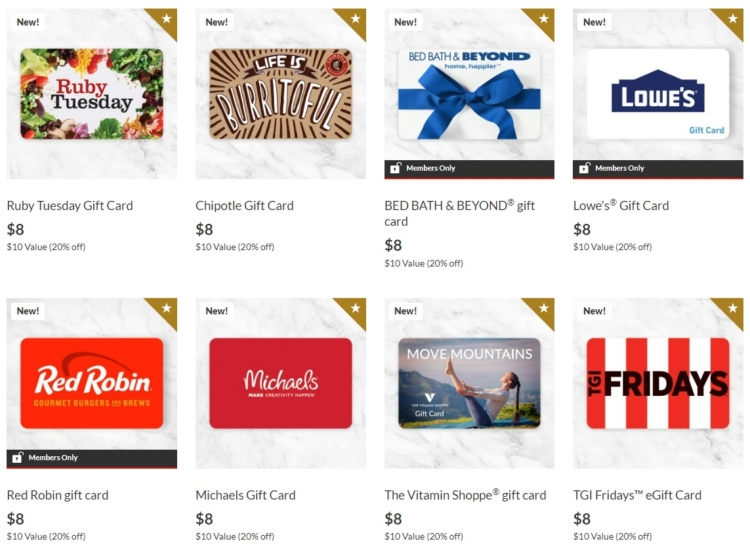 Every weekday at 12pm ET, AARP Rewards launches a new Daily Deal where they offer a large discount on a gift card brand. The discount is usually for 30%, but the discount sometimes goes as high as 40%.
Those deals sometimes sell out within a minute or two, so it can be hard to take advantage of them. If you miss out on those, one way to max out your limit of five discounted gift cards per month is by taking advantage of the other gift card deals they offer throughout the month.
On the first of each month, AARP Rewards loads a bunch of new deals. The best of those deals sell out quickly, so if you don't think you're likely to be able to jump on five Daily Deals, it can be worth buying cards at the start of the month to ensure you get some kind of good deal in case they're all gone by the end of the month.
Seeing as it's the start of a new month, new deals got released today – you can find them here (you'll need to keep scrolling down and keep clicking 'See More Rewards'). There are quite a few brands where they're offering a 20% discount, but they're only available for AARP members. Some of these can be purchased with no additional requirements, while others require that you do 'Extra Credit' tasks such as watching 1-2 minute videos or answering quizzes where it doesn't matter whether or not you get the answers correct.
Here's a list of all the 20% deals for this month – again, the best of these will sell out quickly, so it'd be best to buy sooner rather than later if you're interested:
December 2022 Deals
CVS
Ruby Tuesday
Chipotle
Bed Bath & Beyond
Lowe's
Red Robin
Michaels
The Vitamin Shoppe
TGI Fridays
DSW
Famous Dave's
Panera Bread
Krispy Kreme
Domino's ($10 & $20)
Quiznos
November 2022 Deals
REI
Ulta Beauty
Michaels
Christmas Tree Shops
Picadilly
Clarks
DSW
Ruby Tuesday
1-800 Flowers
Baby Gap
Harry & David
Athleta
Krispy Kreme
Domino's ($10 & $20)
Quiznos
October 2022 Deals
Cheryl's Cookies
Carrabba's
Papa John's
Old Navy
Famous Footwear
Crate & Barrel
Bed Bath & Beyond
AMC Theatres
1-800 Baskets
Petco
Domino's ($10 & $20)
AutoZone
Krispy Kreme
Quiznos
September 2022 Deals
Omaha Steaks
Ulta Beauty
Nintendo eShop
Fanatics
Bubba Gump Shrimp Co
Columbia Sportswear
Shari's Berries
Burlington
Peet's Coffee
Dollar Shave Club
Yankee Candle
Groupon
Krispy Kreme
Domino's ($10 & $20)
Quiznos
August 2022 Deals
Domino's ($10 & $20)
Express
Panera Bread
Petco
Famous Footwear
Red Robin
Staples
Gap
Fruit Bouquets
The Vitamin Shoppe
Bertucci's
CVS
McCormick & Schmick's
Quiznos
Krispy Kreme
July 2022 Deals
DSW
TGI Fridays
Ulta Beauty
Jersey Mike's
Old Navy
Yankee Candle
O'Charley's
Kroger
Peet's Coffee
On The Border
Famous Dave's
Office Depot/OfficeMax
Quiznos
Krispy Kreme
Domino's ($10 & $20)
June 2022 Deals
Bass Pro Shops
Bahama Breeze
AutoZone
Michaels
The Popcorn Factory
Safeway
REI
Crate & Barrel
Bob Evans
Clarks
Buffalo Wild Wings
Quiznos
Krispy Kreme
Domino's ($10 & $20)
May 2022 Deals
The Cheesecake Factory
Panera Bread
Bed Bath & Beyond
Famous Footwear
Krispy Kreme
Lowe's
The Vitamin Shoppe
FruitBouquets.com
CVS
Steak 'n Shake
Athleta
Gander Outdoors
Quiznos
Domino's
April 2022 Deals
Petco
Michaels
IHOP
Domino's ($10 & $20)
DSW
Clarks
Cold Stone Creamery
Chipotle
Chili's
Burger King
Bath & Body Works
Applebee's
Quiznos
Krispy Kreme
March 2022 Deals
Athleta
Red Robin
Bass Pro Shops
Quiznos
The Cheesecake Factory
Krispy Kreme
Olive Garden
Bob Evans
Giant Eagle
Albertsons
CVS
Domino's ($10 & $20)
Cabela's
Office Depot/OfficeMax
AMC Theatres
February 2022 Deals
Sephora
TGI Fridays
Panera Bread
Office Depot/OfficeMax
Michaels
Lowe's
Crate & Barrel
Chili's
Bob Evans
Bed Bath & Beyond
AutoZone
Banana Republic
Quiznos
Krispy Kreme
Domino's
January 2022 Deals
Staples
Buy Buy Baby
Old Navy
Cold Stone Creamery
Safeway
REI
Office Depot/OfficeMax
Gap
Giant Eagle
CVS
Chipotle
Darden
Quiznos
Krispy Kreme
Domino's