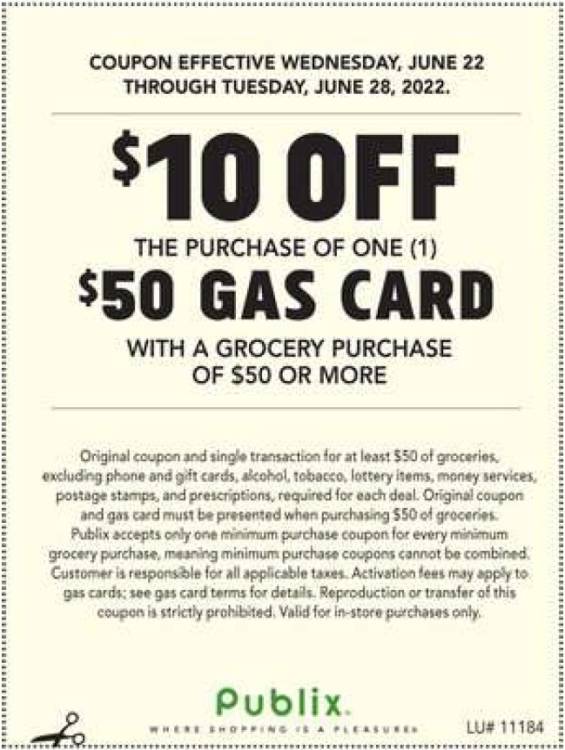 The Deal
Spend $50 or more on groceries at Publix and get $10 off a $50 gas gift card.
Direct link to weekly ad (you might need to change the store ID).
Key Terms
Offer valid June 22-28, 2022.
Original coupon and single transaction for at least $50 in groceries, excluding phone and gift cards, alcohol, tobacco, lottery items, money services, postage stamps and prescriptions required for each deal.
Original coupon and gas card must be presented when purchasing $50 of groceries.
Publix accepts only one minimum purchase coupon for every minimum grocery purchase, meaning minimum purchase coupons cannot be combined.
Tips & Ideas
Publix doesn't have a fuel points program like some other grocery chains, so this type of promotion is their alternative.
Past Deals
June 1-7, 2022
April 27-May 3, 2022
March 30-April 5, 2022
March 23-27, 2022
February 3-6, 2022
January 19-25, 2022
January 5-11, 2022
December 1-7, 2021
November 3-9, 2021
October 13-19, 2021
September 29-October 5, 2021
August 12-15, 2021
June 3-6, 2021
February 4-7, 2021
December 3-6, 2020
November 12-15, 2020
September 17-20, 2020
July 15-21, 2020
July 8-14, 2020
April 29-May 5, 2020
April 22-28, 2020
April 15-21, 2020
March 25-31, 2020
March 4-10, 2020
February 5-11, 2020
January 29-February 4, 2020
January 15-21, 2020
January 8-14, 2020
January 1-7, 2020
December 4-10, 2019
November 13-19, 2019
October 30-November 5, 2019
October 16-22, 2019
October 9-15, 2019
September 25-October 1, 2019
September 18-24, 2019
August 21-27, 2019
August 7-13, 2019
July 3-9, 2019
June 5-11, 2019
May 29-June 4, 2019
April 17-23, 2019
April 3-9, 2019
March 13-19, 2019
March 6-12, 2019
February 13-19, 2019
January 30-February 5, 2019
January 23-29, 2019